COVID-19 Vaccine
The U.S. has been working since the COVID-19 pandemic began to make COVID-19 vaccines available. The FDA granted emergency use authorization for the first COVID-19 vaccine on December 11, 2020. There will not be enough doses available at first to offer it to everyone. Eventually, there will be enough vaccine for everyone who wants it. The COVID-19 vaccine will not be available for children younger than 16 years until more studies are completed.
Washington State is part of a multi-state Scientific Safety Review Workgroup that is independently reviewing the safety and efficacy of any vaccine approved by the FDA for distribution.
Across the U.S., COVID-19 vaccination began on December 14, 2020 to health care workers at high risk for COVID-19 and others who are eligible for the vaccine in the first group.
Washington State has a plan to prioritize who gets offered the vaccine first, using feedback from communities, partners, and businesses impacted by COVID-19 to help guide the plan.
These groups are offered the vaccine first:
Health care workers at high risk for COVID-19
First responders at high risk for COVID-19
People with underlying health conditions that put them at a significantly higher risk for COVID-19.
Until most of our community is vaccinated it is still very important to continue prevention measures, such as washing your hands, wearing a mask, staying six feet apart and limiting gatherings.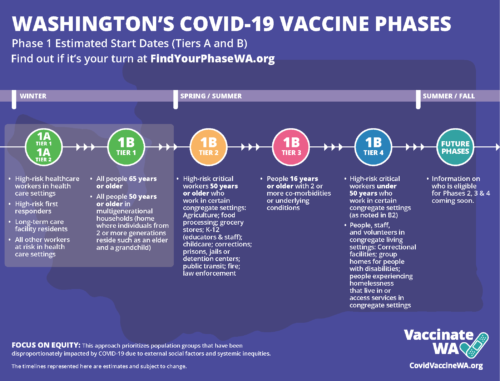 (As of 1/18/2021) Click here for PDF version of Washington's COVID-19 Vaccine Phases Infographic.
How Would COVID Vaccines Work in Your Body
COVID-19 Vaccine Resources for Families
COVID-19 Vaccine Resources for Health Care Providers
We know that the current situation with COVID-19 is unnerving and challenging. WithinReach, which works to improve the health of Washington communities by minimizing the incidence of vaccine preventable diseases, remains committed to the health of families and is working to ensure you get access to the resources you need. Please reach out to us if we can assist you in applying for food programs, access health resources or to find an immunization clinic. You can reach us by calling our Help Me Grow Washington Hotline at 1-800-322-2588, or online at ParentHelp123.org.