Immunization Action Coalition of Washington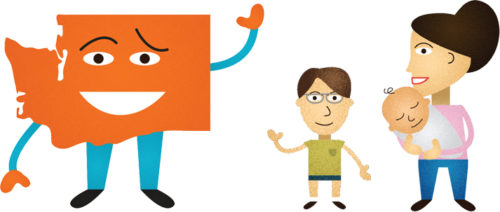 The Immunization Action Coalition of Washington (IACW) hosts quarterly coalition meetings and has several ad-hoc workgroups.
In 2021, all of our quarterly meetings will be held virtually from 12 p.m. – 2 p.m. check below for dates and stay tuned for registration information.
Coalition members and participants agree to support IACW's mission and strength immunization efforts in Washington State that are based on evidence-based guidance from the Advisory Committee on Immunization Practices (ACIP). Please familiarize yourself with our Code of Conduct prior to attending our meetings.
Contact us to learn more or sign up to receive meeting reminders, minutes, and ad-hoc workgroup calls.
Founded in 1994, the Immunization Action Coalition of Washington (IACW) works to improve the health of the community by minimizing the incidence of vaccine-preventable diseases through the optimal use of immunizations across the lifespan. The IACW has over 200 organizational members representing public and private sectors throughout the State. We welcome new members and would love to hear from you! To learn more, contact us, sign up for our newsletter, or attend one of our upcoming meetings listed on our events page.
Our goals are to coordinate Statewide efforts to: provide immunizers with tools and information to implement best practices in providing immunization services; build public will to support the value of immunizations, including educating the public about vaccines and the diseases they prevent; advocate for immunization policy and systems in Washington State that is evidence-based, ensure equitable access to immunizations, and protect communities from vaccine-preventable diseases; and provide immunization stakeholders with opportunities to network, collaborate, and share information about immunization-related news and resources.
Our 2021 priorities are to:
Strengthen COVID-19 vaccine confidence, especially among diverse communities and those most impacted by the COVID-19 pandemic.
Promote the importance of childhood and adolescent immunizations, in response to declining immunization rates during the COVID-19 pandemic.
Explore how immunization data from the WA State IIS could be stratified by factors other than geography to better inform immunization strategies from an equity standpoint.
Support schools and school nurses to enhance their immunization rates and ensure access to vaccines for uninsured families.
Code of Conduct
Members and participants agree to support our mission and strengthen immunization efforts in Washington State that are based on evidence-based guidance from the Advisory Committee on Immunization Practices (ACIP).
The IACW is dedicated to providing a friendly, safe, and welcoming environment for all members and participants regardless of gender, gender identity and expression, sexual orientation, disability, physical appearance, race, ethnicity, religion, or age. Diversity in all its forms is integral to our mission.
We invite all those who participate in the IACW to help us create a safe, positive experience for everyone. All determinations of appropriate or inappropriate behavior are at the sole discretion of the IACW Executive Committee and WithinReach. The following behaviors are requested and expected from all members and participants:
Be courteous, respectful, and considerate of fellow members and participants.
Encourage a collaborative environment that welcomes diversity.
Refrain from harassing, discriminatory or derogatory speech, conduct, and materials.
Obtain approval from the IACW prior to distributing materials.
Click here to read our Member and Participant Code of Conduct in full.
IACW Committees
In December 2017, the IACW Executive Commitee and WithinReach collectively came to the conclusion that we would replace our current structure of standing committees with project-based workgroups that meet on an ad-hoc basis.
We feel that this new model allows for better engagement, use of resources, and we can be nimble and responsive when new opportunities arise. We also hope that this new model helps us focus on continuing to develop robust and informative quarterly meetings for our members at large.