2018 WA Immunization Champions Announced!
A vital array of public and private stakeholders have joined the Immunization Action Coalition of Washington (IACW) and Washington State Department of Health (DOH) to raise the public's awareness of the importance of immunizations – and to continue the work to keep Washingtonians immunized across the lifespan. This is the work of saving lives and keeping our communities healthy. It's time to honor those who have committed to this mission and delivered on their promise.
IACW Advocate Award: Jenny Arnold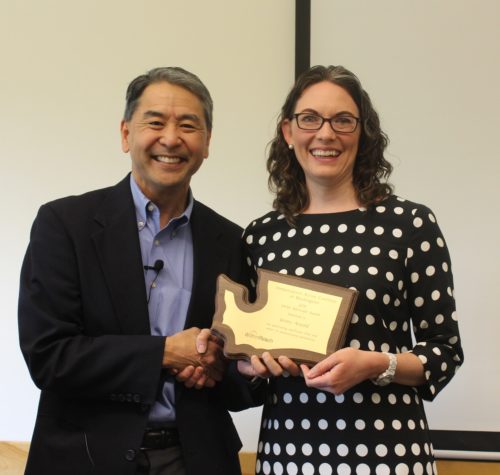 The IACW Advocate Award goes to an individual who has given tremendous amounts of time and has been successful in enhancing statewide immunization efforts.
Jenny Arnold has served as a powerful voice for immunizations in Washington State through her leadership and collaborative efforts as the Director of Pharmacy Practice Development at the Washington State Pharmacy Association. She has been an active member of the IACW since June 2009, including leadership roles as the chair of the Adult Immunization Committee and as the chair of the coalition from 2014-2016. Additionally, she has presented on the work that pharmacies are doing to be more active in the immunization space, including a grant-funded project related to promoting adult immunizations and pharmacy participation in the Washington State Immunization Information System (WAIIS). She has also worked to secure no-cost immunizations for child care providers and migrant farm workers at their work sites.
IACW Collaborator Award: American Indian Health Commission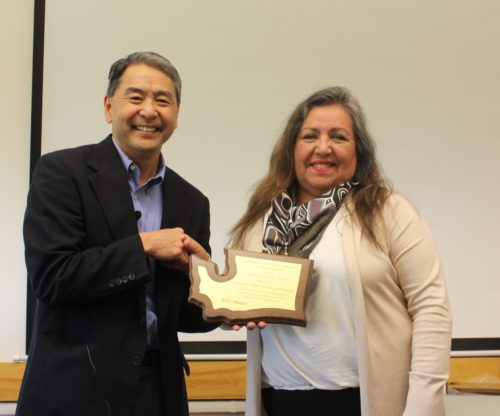 The IACW Collaborator Award goes to an organization who has impacted their community through collaboration to help promote, educate, and increase immunization levels.
The American Indian Health Commission (AIHC) is a passionate advocate for tribal health, and has recognized the role that immunization plays in ensuring a healthy tribal community AIHC has been a vital community partner with Washington State in addressing health disparities in tribal health through immunization. They have been active in the immunization landscape for many years and have been involved in several immunization projects including a child care worker training, HPV youth vaccination project, and the development of the Tribal Health Immunization Workgroup. AIHC is truly a critical link between the state and the tribes on immunizations, and their pioneering work has been shared and recognized nationally!
CDC Childhood Immunization Champion: Dr. John Merrill-Steskal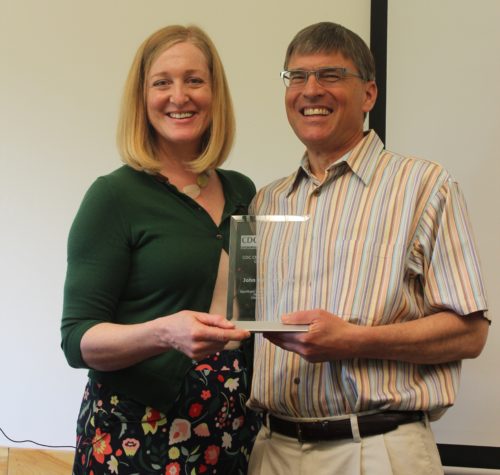 The CDC Childhood Immunization Champion Award goes to an individual who goes above and beyond to promote and foster immunizations for 0-2 year olds in their community.
Dr. John Merrill-Steskal is a full-spectrum family physician at Kittitas Valley Healthcare who encourages immunizations among all his patients at his busy full-time practice. He's created innovative practices in his clinic that have raised their immunization rates and educated both patients and staff about the importance of vaccines. He also finds time to blog, hosts a local radio show (archived into Podcasts), and is the Kittitas County resident vaccine expert. He is truly a champion in protecting infants from vaccine-preventable diseases!